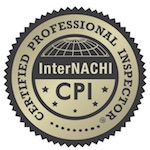 At the completion of this hands-on class, you will be:
You will also receive a Certificate of Completion and an InterNACHI Inspector ID Badge.
Upon completion of this class, you will know how to perform a home inspection according to the Standards of Practice.
Two Certified Master Inspectors®
Certified Master Inspectors® Ron Huffman and Kenton Shepard will be your instructors and mentors throughout the class. 
During the 5-day class, you will:
perform several home inspections with two Certified Master Inspectors® as your instructors and mentors;
learn how to inspect systems and components of a home according to the Standards of Practice; and
practice writing home inspection reports.
This class includes performing several home inspections at the InterNACHI House of Horrors, an entire house with a thousand defects built under our roof at InterNACHI Headquarters. You'll learn how to find all of the defects we intentionally installed in this amazing facility. There are over 120 defects in the plumbing system alone!
We'll also prepare you to pass the Online Home Inspector Exam.
Test-Drive Inspection Tools
During the class, we'll test-drive over $20,000 worth of tools provided by our e-commerce partner, 
Inspector Outlet
, including:
Inspector Outlet will provide you with special pricing if you decide to shop at the store located inside InterNACHI Headquarters.
Your class includes:
1-year membership to InterNACHI (for non-members only, $499 value);
lunch;
inspection t-shirt and cap,
set of textbooks; and
a case of home maintenance books.
Your class also includes unlimited access to all of the following online courses provided by InterNACHI:
Safe Practices for the Home Inspector Course
25 Standards Every Inspector Should Know Course
Residential Plumbing Overview for Inspectors Course
How to Perform Residential Electrical Inspections Course
How to Perform Roof Inspections Course
How to Inspect HVAC Systems Course
Structural Issues for Home Inspectors Course
How to Inspect the Exterior Course
How to Inspect the Attic, Insulation, Ventilation and Interior Course
How to Perform Deck Inspections Course
How to Inspect for Moisture Intrusion Course
How to Inspect Fireplaces, Stoves, and Chimneys Course
Have questions?
Email Ben Gromicko at ben@internachi.org.