Look below to see all dates offered for this training.
Size is limited, so register now for only $1,875!
Monday through Friday from 8 a.m. to 5 p.m. each day.
2018 Training
January 8-12, 2018

   **SOLD OUT**

February 5-9, 2018

   **SOLD OUT**

March 5-9, 2018

   **SOLD OUT**

April 9-13, 2018

   **SOLD OUT**

May 7-11, 2018

   **SOLD OUT**

June 4-8​, 2018
2018 Training (con't.)
July 9-13, 2018
August 6-10, 2018
September 10-14, 2018
October 8-12, 2018
November 5-9, 2018
December 3-7​, 2018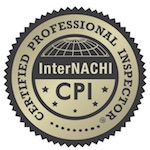 At the completion the training, you will:
have experienced inspecting the House of Horrors®, an entire house with 1,000 defects built under our roof;
be a member of InterNACHI®, the world's largest home inspector accreditation organization;
be an InterNACHI Certified Home Inspector;
be awarded the Certified Professional Inspector (CPI)® designation. 
receive an InterNACHI® member ID badge.
As an online institution, InterNACHI does not require members to attend any live training or enroll in any in-residence program, and InterNACHI does not require onsite attendance. The training provided at the House of Horrors® will help you develop your professionalism and skill set as a home inspector.  
Students seeking to gain and develop their knowledge, skills, and abilities necessary to perform a home inspection and to attain a Home Inspector Program Certificate of Completion may enroll in InterNACHI's online Home Inspector Certificate Program.
During the 5-day training, you will:
learn from several Certified Master Inspectors®;
perform inspections with a Certified Professional Inspector® as your mentor;
learn how to inspect systems and components of a house;
find defects at the House of Horrors®;
practice writing home inspection reports;
test-drive over $20,000 worth of inspection tools; and
meet with the InterNACHI Marketing Team and staff.
This training includes performing inspections at the House of Horrors®, an entire house with a thousand defects built under our roof at InterNACHI® Headquarters. You'll learn how to find all of the defects we intentionally installed in this amazing facility. There are over 120 defects in the plumbing system alone!
We'll also help you pass the InterNACHI Online Home Inspector Exam.
Test-Drive Inspection Tools
During the training, we'll test-drive over $20,000 worth of tools provided by our e-commerce partner,
Inspector Outlet
, including:
Inspector Outlet will provide you with special pricing if you decide to shop at the store located inside InterNACHI Headquarters.
Your purchase includes:
a free one-year membership in InterNACHI® (for non-members only; a $499 value);
catered breakfast and lunch;
an inspection t-shirt;
inspection textbooks; and
home maintenance books to give to your clients.
Your purchase also includes unlimited access to all of the following online courses provided by InterNACHI®:
Safe Practices for the Home Inspector 
25 Standards Every Inspector Should Know 
Residential Plumbing Overview for Inspectors 
How to Perform Residential Electrical Inspections 
How to Perform Roof Inspections 
How to Inspect HVAC Systems 
Structural Issues for Home Inspectors 
How to Inspect the Exterior 
How to Inspect the Attic, Insulation, Ventilation and Interior 
How to Perform Deck Inspections 
How to Inspect for Moisture Intrusion 
How to Inspect Fireplaces, Stoves, and Chimneys 
Location of the House of Horrors®:
InterNACHI® Headquarters and the House of Horrors® are located at 4635 Nautilus Court S, Boulder CO 80301, which is about 50 minutes away from Denver International Airport.