How to Become a Certified Home Inspector in Montana

Home Inspector Certification (online & free for members):
Each individual working under the registration will be required to meet the following criteria:
successful completion of 40 hours of comprehensive home inspection training approved by the Department, or a passing grade on an approved national home inspection examination;
membership in an approved national association;
carry liability insurance, and a minimum of $100,000 in errors and omissions insurance; and
obtain personal workers' compensation coverage or an independent contractor exemption certificate (ICEC).
Click on the green "Montana Registration Form" button below to download and print the PDF, fill it out, and submit it to the state as instructed to keep informed of developments.
Insurance for Inspectors
Montana requires that inspectors carry liability insurance, and a minimum of $100,000 in errors and omissions insurance. InterNACHI members are eligible for discounts and enhanced coverage. Visit
nachi.org/insurance
for information on how to sign up.
Hands-On Training at the House of Horrors®
Experience world-class inspection training and InterNACHI® member events at our House of Horrors® locations in Colorado and Florida. The InterNACHI® House of Horrors® is an entire house with 1,000 defects built under our roof. Register for a free event, take training, test-drive inspection tools, attend an inspector chapter meeting, and inspect the House of Horrors®.
Home Inspector Continuing Education (online & free for members):
InterNACHI-Certified Home Inspectors are required to complete twenty-four (24) hours of Continuing Education every year to renew their certification.
View the Continuing Education Policy
.
After joining as a member, you'll have access to everything you need to be successful, including all of InterNACHI's online training, certifications, Continuing Education, marketing, and business services. InterNACHI has
everything you need, all in one place.
The Montana Department of Labor and Industry approves InterNACHI as a continuing education provider
Home Inspector School Partners
For a list of local partner schools that provide home inspector training classes, please
click here
.
How to Join InterNACHI
Radon Tester Certification in Montana (online & free for members)
Montana does not license radon measurement professionals. However, the Montana Department of Environmental Quality provides a list of nationally certified individuals to the public that have received radon measurement training approved by the National Radon Proficiency Program (NRPP), passed an exam, and have completed Continuing Education in radon.
Visit the Montana website for details
.
Real Estate Cards (free for members):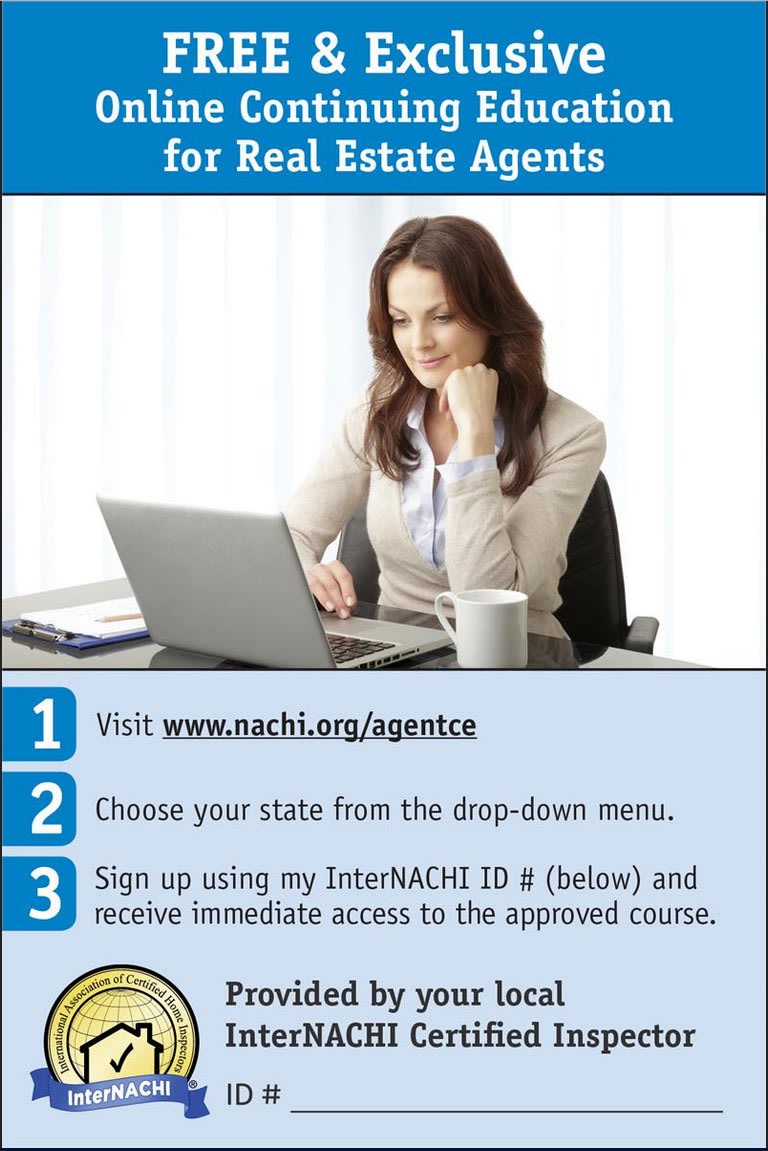 Montana-licensed real estate agents can attain free Continuing Education credits by following the directions on the real estate cards. Members can hand out these cards to real estate agents, which explain how to log into the free courses.
When an agent logs into a course and enters the member's ID number, the member is automatically emailed. The first slide of the course is the member's contact information.
Home Energy Inspector Certification (online & free for members):
Home Energy Score Assessor (online & free for members):
The Home Energy Score is similar to a vehicle's miles-per-gallon rating, and any qualified inspector in the U.S. can generate a Home Energy Score in less than an hour. The Home Energy Score provides:
Wood-Destroying Organism Inspection (online and free for members)
Commercial Property Inspections
Become a InterNACHI® Certified Commercial Property Inspector. The online training and certification is free for members.
Visit Certified Commercial Property Inspectors Association (CCPIA) for additional commercial inspection training and resources.
Business & Marketing (online & free for members):
Everything You Need, All in One Place:
Follow the
step-by-step checklist for running a successful home inspection business
.
Membership Benefits (free for members):